Current Opportunities
---
Youth Voice Testimony Opportunities!
The Nebraska legislative session is underway and there was a near record number of bills introduced this session. Several of them directly impact youth and young adults in Nebraska. We are working with several partner organizations to make sure the voices of Nebraska young people are heard by the Legislature on these matters. We are looking for several people to testify about their experiences and how they will be or would have been impacted by the legislation.
Here are the bills we want to be sure to have the voices of young people heard:
LB 159: Fostering Independence Higher Education Grant Act, which would cover the full cost of attendance for former foster youth attending public post-secondary schools.
LB 306: Youth in Care Bill of Rights, which would establish basic rights for young people in foster care, YRTCs or youth detention centers including freedom of religion, freedom of discrimination, information about medical decision and much more.
LB 14: Expands the Bridge to Independence program to include young people in the juvenile justice system.
LB 127: Eliminates life sentences for felonies committed by those under 18
If you are a young person in Nebraska interested in testifying on any of these bills, contact Lincoln Arneal at larneal@nebraskachildren.org! The committee hearings are not scheduled yet, but Lincoln will work with you to make sure that you feel comfortable and are prepared to speak in front of senators. Even if you are unsure what to say, we can help with that, too!
---
Connected Youth Initiative Legislative Days 2023
February 11-13, 2023
With the leadership of the Nebraska Children Youth Advisory Board and other supportive partners, young adults will:
Learn about the Nebraska legislative process
Give their opinion and advocacy of current Nebraska legislation
Gain skills to change laws and policies based on their own lived experiences
Tour the Nebraska Capitol
Speak with Nebraska State Senators and the Governor
Build connections and friendships with others
Who can attend? Connected Youth Initiative (CYI) participants, LEAP participants, local youth chapter members, and their adult supporters and partner organization representatives
Where? Saturday and Sunday events will take place on the campus of Carol Joy Holling Camp (Ashland NE) and Monday's events will take place at the Nebraska State Capitol Building
When? Youth participants will arrive on Saturday, Feb. 11 at 11:00 AM and the event will conclude on Monday, Feb. 13
Prep Work? Yes! Participants will participate in prep work Jan. 22-Feb. 2 to review bills introduced this session. Each participant must attend at least one prep session (details revealed when you register)
Details: All meals and lodging are provided and participants will received a stipend for their time and talent plus a t-shirt. Each community can register up to (7) participants and must also have an adult supporter attend with the young people. 
To register: Let your local youth chapter advisor/adult supporter know that you are interested! Adult supporters can contact Lincoln Arneal at larneal@nebraskachildren.org or 402-440-3844 to register (have full participant name, shirt size, and dietary restrictions) or adult supporters can REGISTER HERE.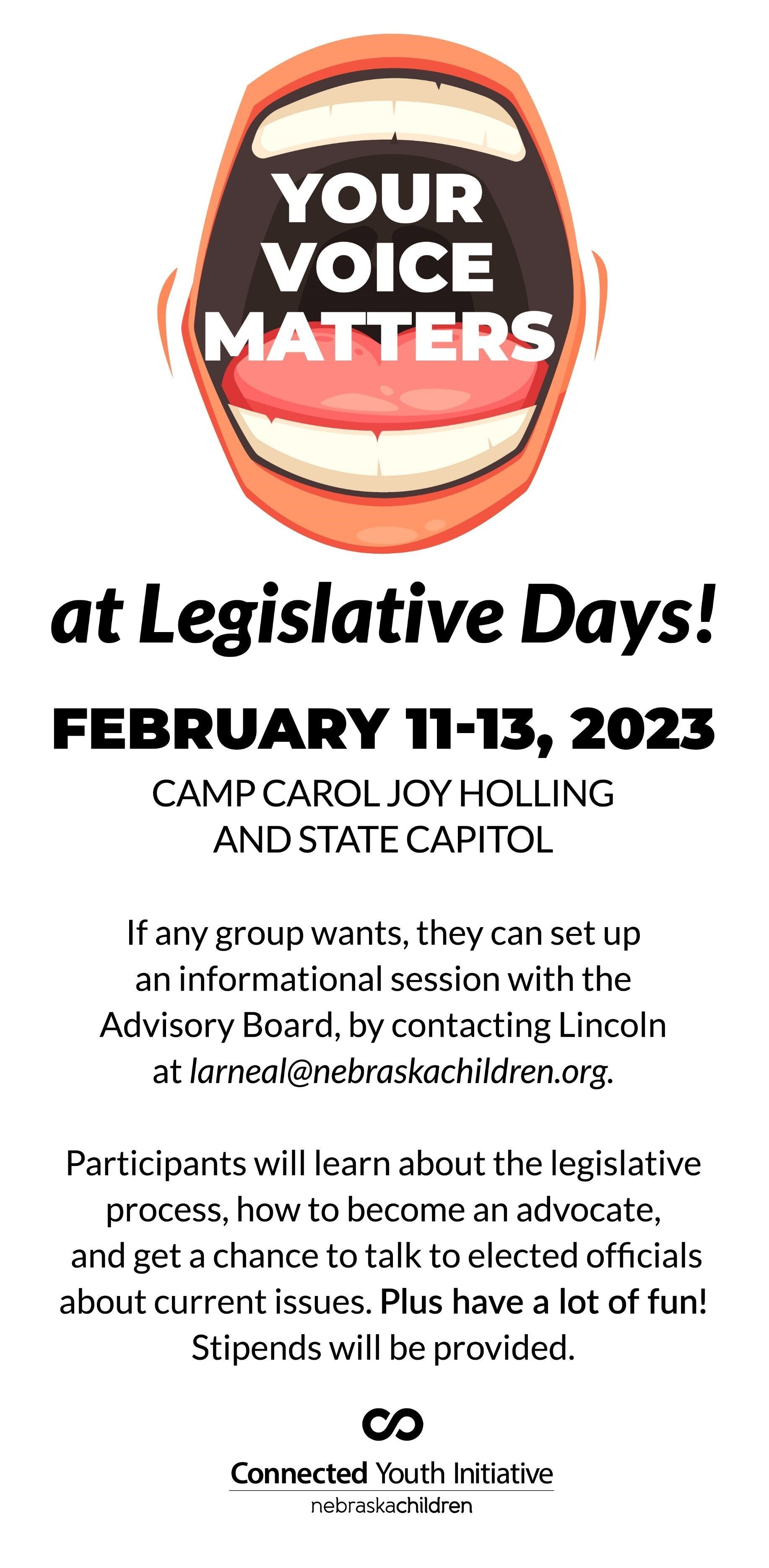 ---
DHHS Wants to Hear From You!
The Family Advocacy Unit from Nebraska Department of Health and Human Services (DHHS) is working to respond to the youth citizen review panel's recommendation about the haircare needs for foster youth. They created a survey to gather data about youth and hair care to respond to this recommendation. Your feedback is very important, and we would greatly appreciate your participation. If know of any foster youth who can complete this survey, please pass it along as it is important that we get as much direct feedback as possible. Here is the landing page with the link to the survey in the middle of the page. Thank you for your help! 
---
Help Co-Create Nebraska's 2023 Youth Engagement Summit (YES)!
The Nebraska Department of Health and Human Services (DHHS) - with other youth-serving partners - is seeking influential lived expertise to engage in the co-creation of Nebraska's 2023 Youth Engagement Summit (YES) and we want persons with lived experience to participate in the planning process. This will allow us to understand the statewide concerns for Nebraska's out-of-home youth. We must have authentic youth and family collaborators to generate solutions that can create change.
We are seeking persons up to (5) young people with lived experience in out-of-home care. Project Planning will last up to eight months for three hours each month for meetings, planning and communication. Participance will be paid $25.00 per hour.
If you have any questions or want to join this co-design effort, please contact Jarren Breeling, DHHS Advocate @ 402.218.9675 or Jarren.breeling@nebraska.gov 
---
Nebraska Strengthening Families Act Committee Seeking New Youth Members
The Nebraska Strengthening Families Act (SFA) Committee is looking for new members, specifically members that are young adults currently or previously in foster care.
The SFA (SFA) Committee was created under the umbrella of the Nebraska Children's Commission to monitor and make recommendations related to Nebraska's implementation of the Federal Preventing Sex Trafficking and Strengthening Families Act, Public Law 113-183 (referred to as the "Strengthening Families Act" or "SFA"). Nebraska's Strengthening Families Act works to implement stakeholder recommendations. The SFA Committee also has two active subcommittees that you can be a part of: 1) APPLA (Another Planned Permanent Living Arrangement) and 2) Normalcy Committee.
If you'd like to join the SFC Committee, please contact your CYI coach or email Adam Anderson at the Children's Commission and tell him that you're interested in the SFA Committee!
---
Nebraska Native Youth Gathering
Native Youth Gathering that will be held at the Norfolk Lifelong Learning Center on April 26th and April 27th. Day one of the conference will follow the standard conference schedule with breakouts covering career opportunities and cultural speakers. The second day will be a workshop format that is still being determined by our planning team. If your district is able to organize an overnight stay for your youth we will have a limited capacity for 150 youth for the second day for the workshop event. Registration will be sent out in February, so please keep an eye out on that!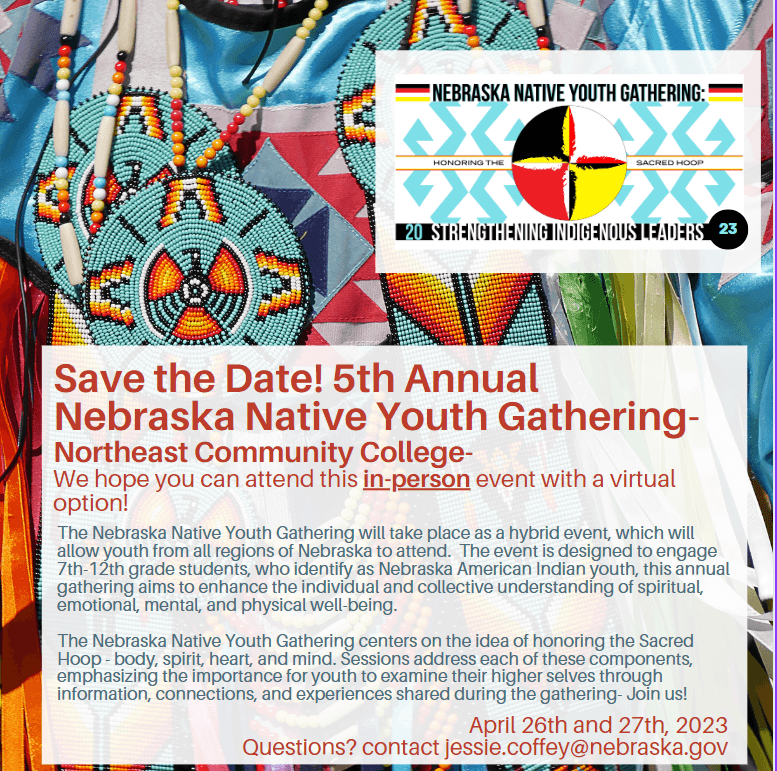 ---
We Want Your Voice To Be Heard!
Are you a young adult aged 18-25 with experience in the Nebraska state and/or tribal child welfare system? We want your voice to be heard!
Tribal youth are not accessing services to help in the transition to adulthood. We want to change that and YOU can help!
If interested in this discussion, please email Kitty at kitty@nicwc.org, scan the QR code on the flyer, or visit this link to get started.
Incentives and travel reimbursements are available for participants.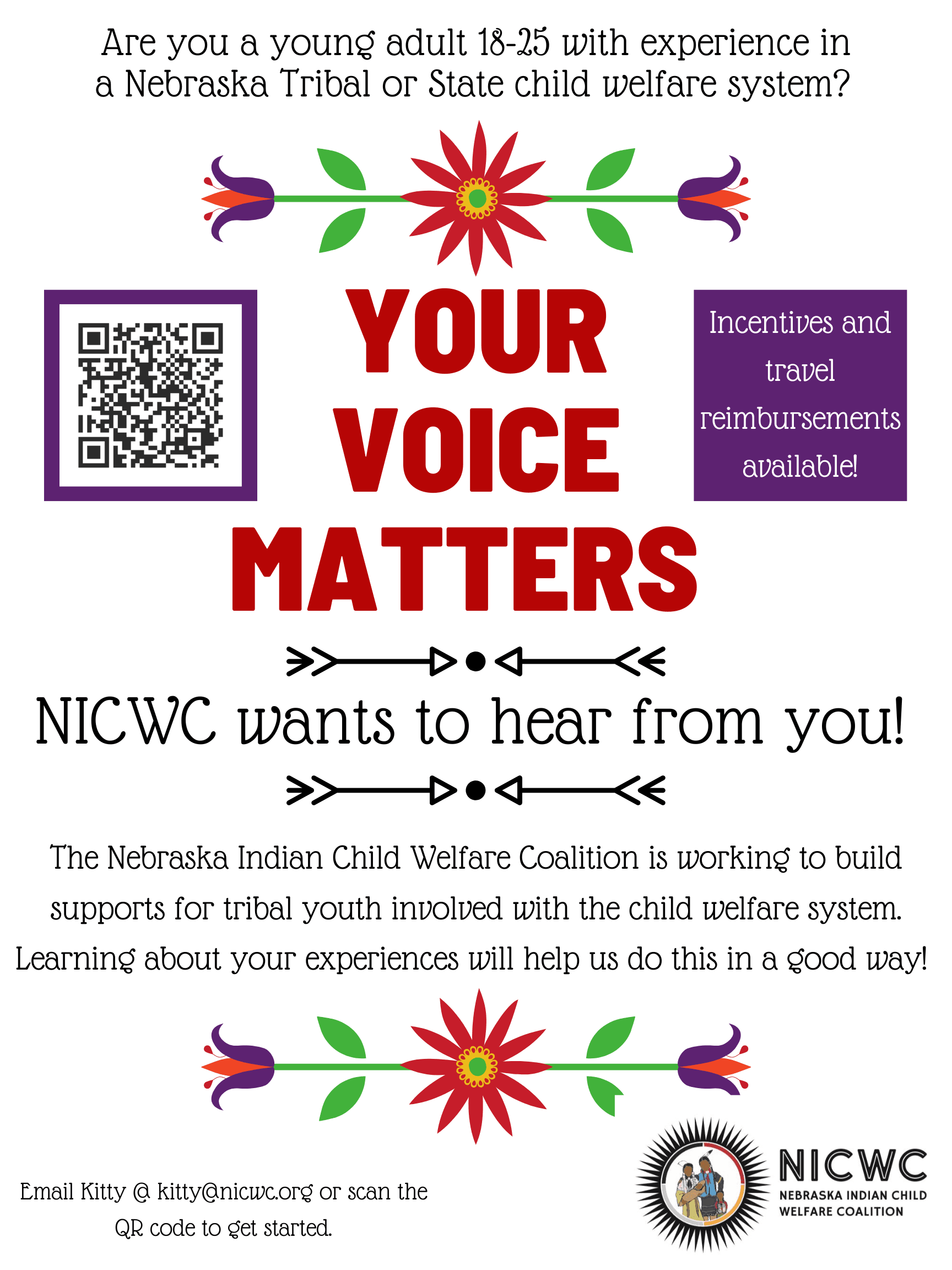 ---