Current Opportunities
---
Legislative Days 2024
Registration is open for this year's Legislative Days February 3-5. During the weekend, participants will learn about the legislative system, public speaking, advocacy and will make a presentation about a current bill to present to elected officials. Registration is open to participants of youth leadership chapters, other NCFF-sponsored programming (i.e. LEAP, coaching) or through community collaboratives. Please sign up online at bit.ly/LegDays2024 by January 17. For each chapter/group, we are starting with a cap of seven people with the opportunity for more based on the overall response. Download the flyer for more details.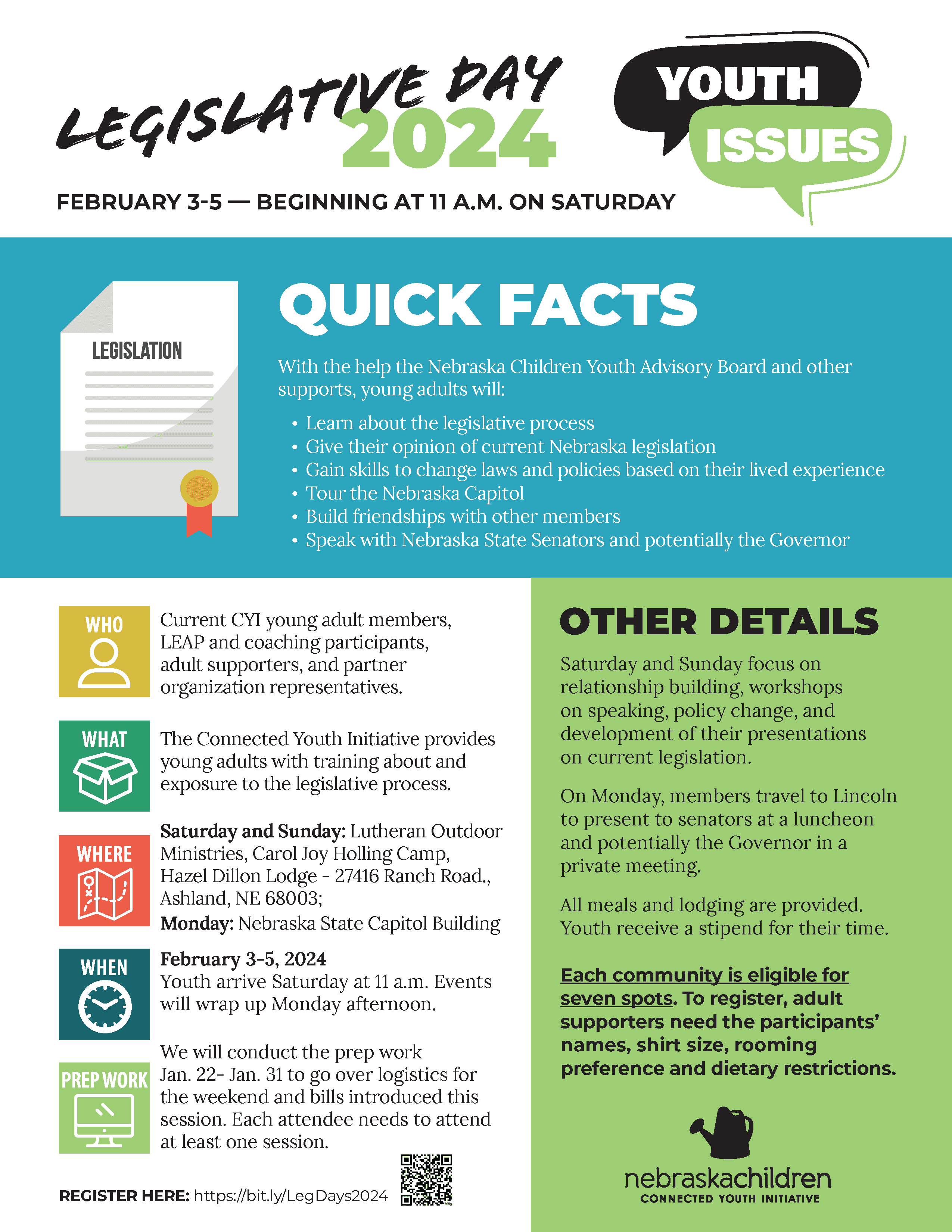 ---
Survey Opportunity for Former Foster Youth
Child Trends, a national research group focused on improving positive outcomes for children, looking for young people with foster care experience who are at or over the age of 18 and have changed or deeply considered changing their racial and ethnic identity to participate in a survey and interview. All eligible interview participants will receive a $45 stipend. Examples of "Change" could be going from identifying as White to Hispanic or going from identifying as Black to biracial. "Deeply considered" means you spent a lot of time carefully thinking about changing how you identify, but in the end, you decided against a change. If you're interested, complete this screening form. Qualified young people will participate in a 20-30 virtual interview. Interviews will happen through the end of December 2023.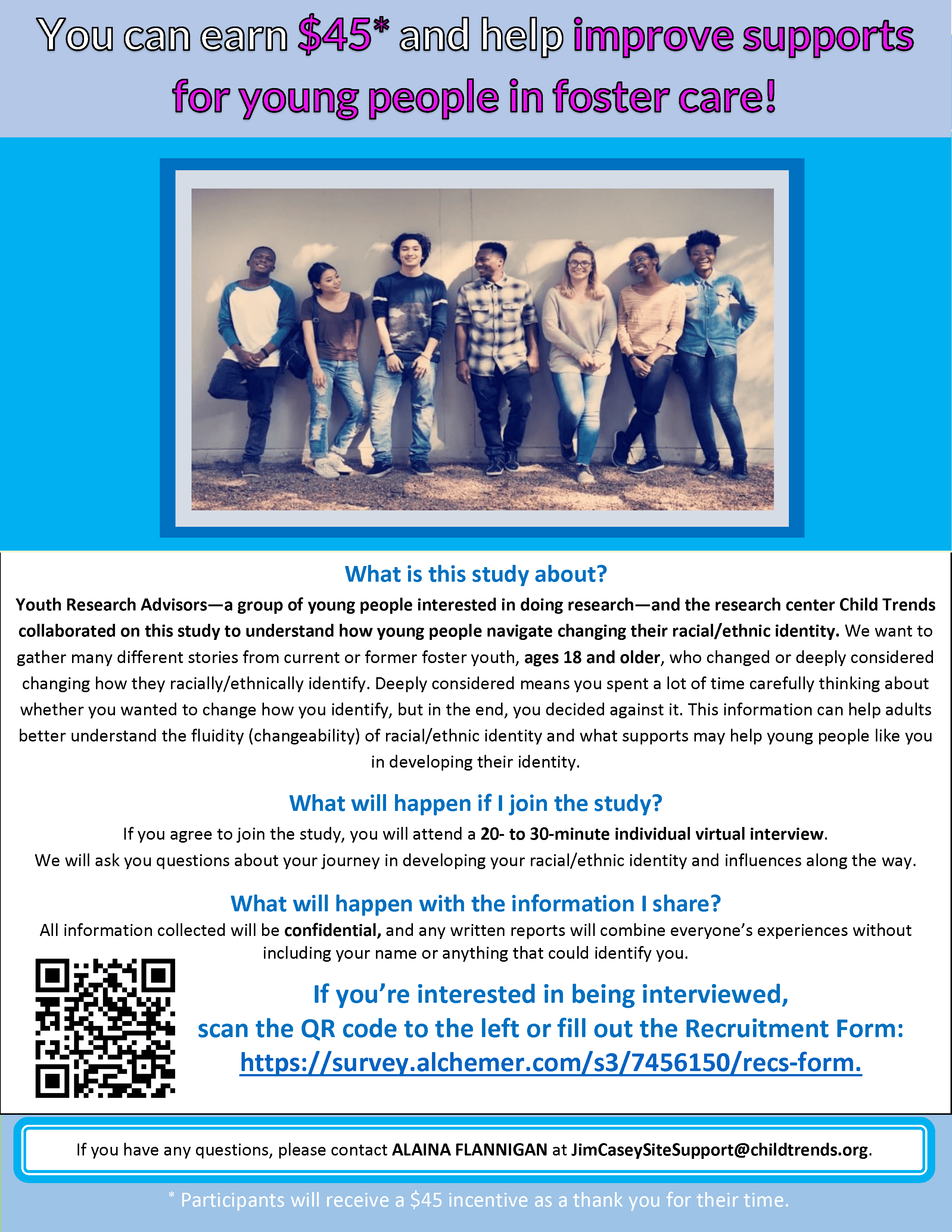 ---
Coalition seeks youth members
The Nebraska Coalition of Juvenile Justice (the Coalition) is seeking youth applicants for the Coalition under federal and state statutes. The Coalition is a group of youth justice stakeholders committed to improving the youth justice system in Nebraska. An important part of that work is having those voices at the table that have lived experience in the system. The Coalition is seeking youth and young adults up through age 27 who are willing to participate and take leadership roles when they are ready in making real change recommendations to the Nebraska Legislature and Governor. This could include leading a young adult coalition that seeks youth voice of those currently in the system to hear what changes need to happen now. This could also include active involvement in making grant funding recommendations to programs and services statewide to serve youth and families in the system and to keep youth out of the system.
If you are interested in applying for a position on the Coalition, submit your application for Executive Appointment. Interested parties can apply by completing the Executive Appointment form online. If you need more information, contact Elaine Menzel (Elaine.Menzel@NebraskaCounties.org) or Amy Hoffman, Director of Juvenile Programs and Interventions at 402.471.3846 or amy.hoffman@nebraska.gov.
---
Pregnant and Parenting workgroup
The Pregnant and Parenting workgroup is seeking to expand the number of members. Please consider this opportunity and share with individuals who have lived experiences in the foster/group home system or with juvenile justice, we are currently seeking FATHERS who are parenting children of their own, whether they have custody or not. This work focuses on affecting the multi-generational impact that foster care has on families and members are compensated for their time. See the graphic below for more details or contact Jen at jmonroe@nebraskachildren.org.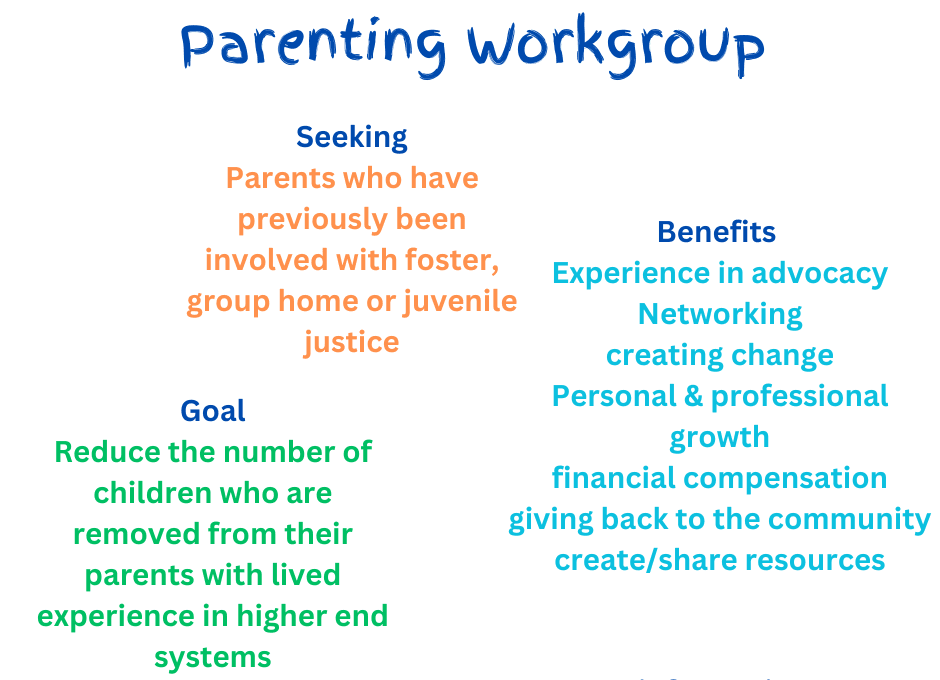 ---
We Want Your Voice To Be Heard!
Are you a young adult aged 18-25 with experience in the Nebraska state and/or tribal child welfare system? We want your voice to be heard!
Tribal youth are not accessing services to help in the transition to adulthood. We want to change that and YOU can help!
If interested in this discussion, please email Kitty at kitty@nicwc.org, scan the QR code on the flyer, or visit this link to get started.
Incentives and travel reimbursements are available for participants.