Current Opportunities
---
Peer reviewers needed - Office of Juvenile Justice and Delinquency Prevention
Peer reviewers are needed to evaluate competitive grant applications, supporting Office of Juvenile Justice and Delinquency Prevention's efforts to make fair, equitable, and objective funding decisions. By participating, you can gain transferable skills to add to your professional resume, receive reimbursement for your work, and make meaningful connections with other juvenile justice experts. Applicants must be between 18-25 years old, have lived experience with the juvenile justice system (e.g., arrested, detained, confined, or on probation), have participated in juvenile justice-related programs (e.g., youth mentoring, juvenile drug court, family treatment court, or arts programs for justice-involved youth, etc.) and have access to a computer and the internet. To apply, submit your resume or letter of interest to ojjdppr.support@ojp.usdoj.gov by May 5, 2023. 
---
Think of Us National Town Hall
Join Think of Us for a National Town Hall event to hear directly from Aysha E. Schomburg, Associate Commissioner of the Children's Bureau & guests from CMS, HUD, and SAMHSA for a discussion around interagency investments to ensure youth leave care with strengthened relationships, holistic supports, and opportunities. Associate Commissioner Schomburg has committed to centering lived experience differently and this town hall will feature priorities for transition-aged youth. The town hall will be Wednesday, May 10 at 3 p.m. Central. Sign up at https://form.typeform.com/to/Vzz6Cw1b
---
Young person needed for Juvenile Service Committee of Nebraska Children's Commission
The Juvenile Services Committee is looking for a young adult with previous juvenile justice experience to serve a two-year term. The Juvenile Services Committee makes recommendations to the Nebraska Children's Commission regarding juvenile justice, youth rehabilitation and treatment centers, and racial and ethnic disparities. Please download and complete the application if you are interested.
---
The Lived Experience Professional Network
Hopewell is launching The Lived Experience Professional Network. The Network is a national professional community for adults who are at least 25 years old, experienced foster care and are now working in a professional capacity in the foster care/child welfare field. The goal is to provide a safe space for building community with others also navigating the intersection of lived foster care experience and a professional role in the foster care/child welfare field. The group will determine how this will be accomplished and what it will look like. The first gathering will be in May. To sign up, complete this form: https://forms.office.com/r/nmr5pMgwBt. For questions, contact Jamie Bennett at jamie@ceterafl.org.
---
Members needed for Team with Lived Expertise
The Quality Improvement Center on Engaging Youth (QIC-EY) looking for people to join the Team with Lived Expertise (TLE). Eligible people are between the age of 16-26 who are currently in foster care care in the Nebraska child welfare system or have previously spent time in the Nebraska foster care system. Members will be asked to spend up to four hours per month participating in meetings (in person and virtual) and commit to serve on the team until the project concludes in September 2026. Applications are due May 3. For more information, see the attached flyer or contact Katie Watchorn at Katie.Watchorn@nebraska.gov. To apply, complete the online form at https://docs.google.com/forms/d/1wKzQxyYxussbAb1C_J5SIJtjwHxVHULNenET-q1tgoE/viewform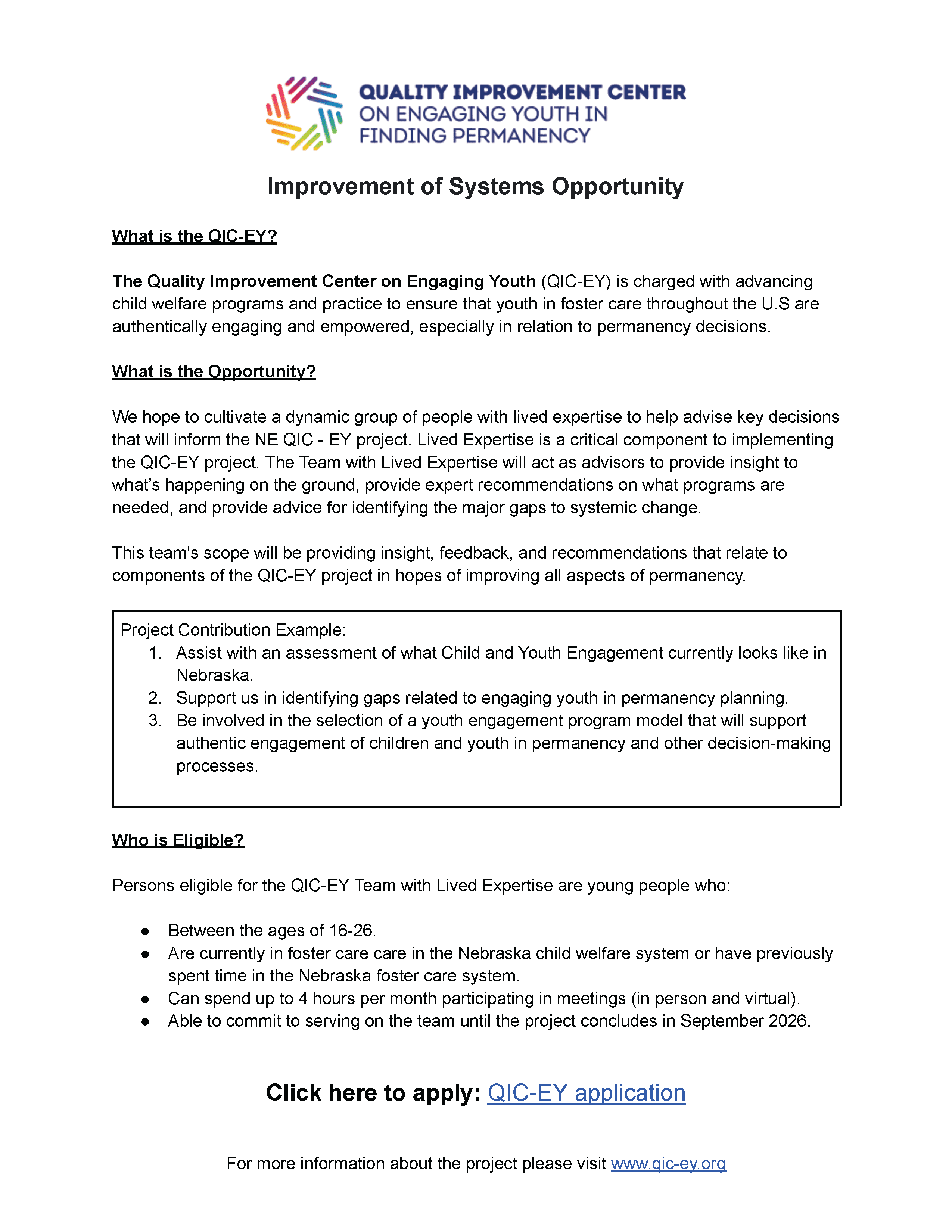 ---
Survey participants needed!
The Administration for Children and Families (ACF) is launching a survey to hear directly from parents, caregivers, and young people ages 13-24.This survey will ask questions about you and your family's experiences with behavioral health to help ACF improve future trainings, information, and resources to support the needs of youth, parents, and caregivers. The survey is intended for parents, other caregivers, and youth/adolescents between the ages of 13 and 24.. The survey will take 7-10 minutes to complete. 
---
Pregnant and Parenting workgroup
The Pregnant and Parenting workgroup is seeking to expand the number of members. Please consider this opportunity and share with individuals who have lived experiences in the foster/group home system or with juvenile justice, we are currently seeking FATHERS who are parenting children of their own, whether they have custody or not. This work focuses on affecting the multi-generational impact that foster care has on families and members are compensated for their time. See the graphic below for more details or contact Jen at jwallage@nebraskachildren.org.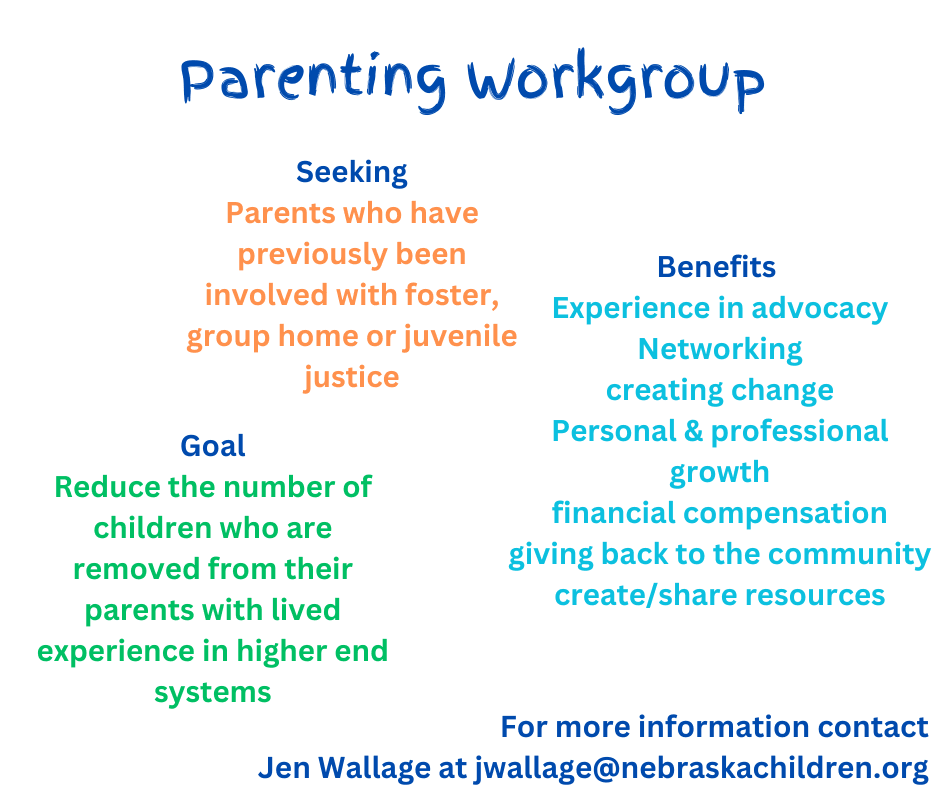 ---
We Want Your Voice To Be Heard!
Are you a young adult aged 18-25 with experience in the Nebraska state and/or tribal child welfare system? We want your voice to be heard!
Tribal youth are not accessing services to help in the transition to adulthood. We want to change that and YOU can help!
If interested in this discussion, please email Kitty at kitty@nicwc.org, scan the QR code on the flyer, or visit this link to get started.
Incentives and travel reimbursements are available for participants.