Current Opportunities
---
Virtual Reality TOYS (Transforming Older Youth Systems)
Solving Societal Challenges through Youth Designed Strategies
Interested in exploring Virtual Reality as a means of bettering the world - especially for those with systems experience?
Join us to learn more about a Nebraska tournament - with prize money - and a chance to participate in the international SDG Metaverse Prize. In Nebraska, we are focusing on creating tools for the next generation of coaching, making VR resources available to young people to boost their coaching experience.
Wanna learn more? Attend one of our events in Kearney, Lincoln, or Omaha!
Then if you're still in, there will be a statewide Zoom convening for interested young people in late October to learn more about the project and forming teams.
---
Nebraska Older Youth Support Services Fund
Are you a young adult in Nebraska (between the ages of 18 and 23), were previously in foster care, and looking for financial assistance?
We want to help you with expenses for things like: 
• Education
• Housing/Rent
• Groceries
• Utilities
• Other essential monthly expenses
Hit "APPLY NOW" and answer a few questions on the application before October 10, 2022 to see if you qualify.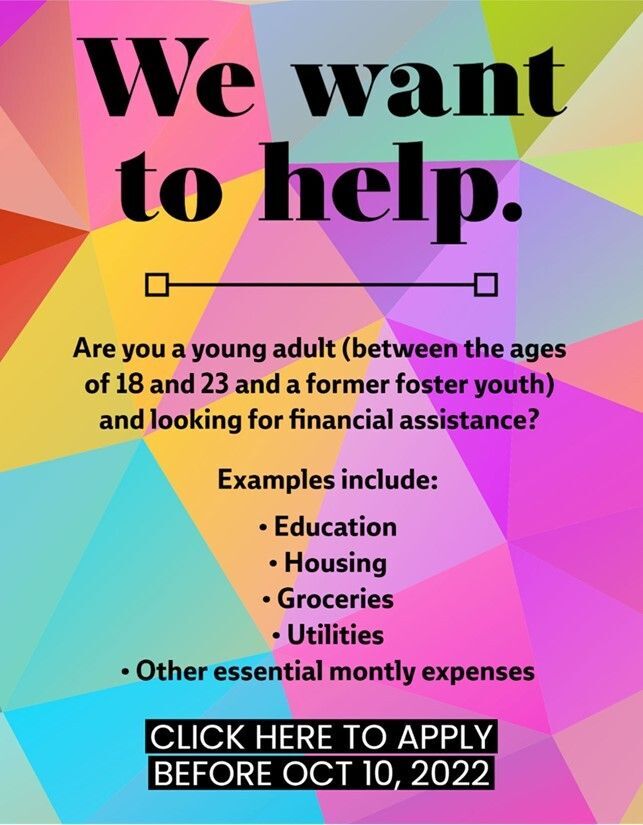 ---
Young Adult Voices Needed!
School House Connections is hosting a webinar in late October with schools, central navigators and youth-centered organizations in Nebraska to educate them on best ways to reduce youth homelessness. We are looking for several young people to participate and share their insights about how homelessness can impact a young person's educational path, especially in high school. Hopefully, young people are willing to speak about why education is important to them what helped them navigate being homeless while still pursuing their educational goals. The panel will either be on October 20, 21, or 26 and will last for 40 minutes of the 75-minute webinar. Young adults on this panel will receive a stipend for their time, talent, and expertise!
INTERSTED? Email Lincoln Arneal here.
---
Young Adult Advocacy Opportunity - LR 354
There is an upcoming youth and young adult advocacy opportunity for LR 354 hearing on October 28, 10 a.m.
This is an interim study on the cost, benefits and possibilities of covering the full cost of attendance for foster youth at postsecondary schools in Nebraska. We are looking for two young people with foster care experience to testify for five minutes each. The goal is to share your experience or challenges related to pursuing postsecondary education/college and how you were impacted by not being able to afford college, missing out on educational opportunities because you needed to work to pay for school, or had financial burden because of paying for college. Young adults that testify at the hearing will be paid a stipend for your time, talent, and expertise!
Sound like you? Email Lincoln Arneal here.
---
OYUVotes: Community Action Team Voter Engagement Spotlight
Opportunity Youth United Academy is offering a Community Action Team (CAT) Voter Engagement Spotlight. This is a very important academy session because mid-term elections are right around the corner. You can learn from Community Action Teams across the country about things like:
The importance of local elections and their impact on local communities

Youth & Young Adult Voter Mobilization strategies and tips

Youth & Young Adult Strategies for Voter Engagement
This session is open to young people, Community Action Teams, youth-serving organizations, and adults/allies/supporters who work with youth and young adults!
When? Thursday, September 22nd at 6:30 PM CST (7:30 PM EST).
Register at the link below!
**Did you know that Nebraska has an OYU Community Action Team? Want to get involved? Email Lincoln Arneal.
---
New Politics Leadership Academy Now Accepting Applications
Let's be honest, right now we need emerging leaders with the courage to act – leaders willing to set aside any self-interest for the good of the whole. Sound like you? Opportunity Youth United is now accepting applications for Answering the Call (ATC) and YOU are invited to apply!
This program is a leadership development course that challenges service-oriented participants to engage in personal reflection. Throughout the course you will learn to better understand the kind of leader you are looking to become, as well as how your personal brand of leadership engages with politics. Throughout it all you will connect with other servant leaders who are considering ways to serve their community through political engagement. Don't wait to apply — enrollment is limited. 
The application deadline is September 28th. APPLY HERE or NOMINATE A LEADER IN YOUR COMMUNITY HERE.